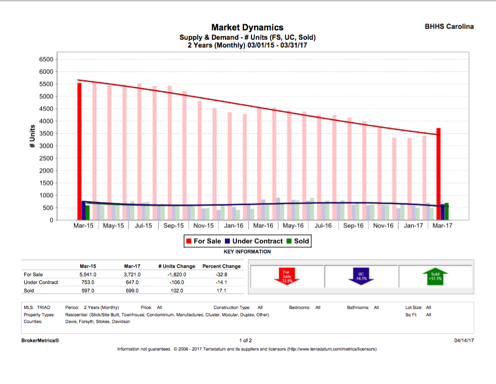 March 2017 Monthly Market Stats
Here's your monthly real estate update for our area for March 2017.  Remember the data lags by one month so April's report shows activity for the preceding month – March!
The local area real estate market continued to build powerful momentum!  Take a look at this…
The number of properties that closed in March was up 12.6% YTD vs 2016 – and dollar volume is up a whopping 20.5% due to a 7% increase in average sales price!
Over the last 12 months, resale closed properties have increased from 15.4% in February to 16.2% in March!
The total number of active listings are down 16% from this time last year.
By comparing active listings to total sales during the last 12 months there is currently a extremely low 3.5 month supply of inventory on the local market overall.
WOW!  If you are considering selling your home, this is the time!