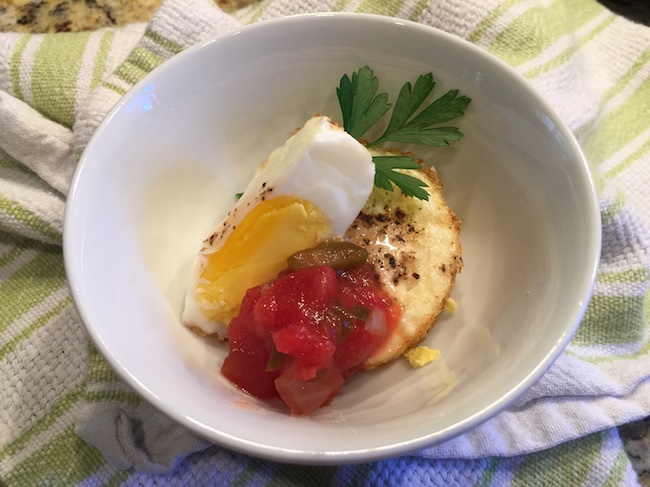 Hi!
It's EOQ time.
That would be End Of Quarter testing time in the public schools here in Winston-Salem.  And of course, I want my little ones to have a healthy, protein packed, FAST, breakfast experience to carry them through yet another "opportunity to show your brilliance" (as one of my kids teachers so cleverly refers to testing experiences – thank you Mrs. Boone!)…
So here goes…I saw this idea all over the internet and had to share it with you – wish I had been brilliant enough to be the first one to come up with this!
The Basics:  Crack eggs into a non-stick sprayed muffin tin.  Bake at 350 degrees for 18-20 minutes til centers are set.  Serve.
That's it!  That's all!  End of discussion! You're done! 
NOTE:  Of course the brilliance behind this idea is to make these ahead of time, so you can simply pop them in the fridge and pull out, warm up in the microwave, and serve all week long, thereby reducing healthy, protein, weekday breakfasts to 30 seconds!  Yipee!
Shoot!  Have the kiddos make 'em for you while you sip coffee, pay bills, chat with your mother, whatever…
OOh and…you can freeze 'em!  Yep just pull them out, warm up and serve – for up to a month!  WOW!
Yes – just WOW!
BRILLIANT WEEKDAY EGGS.
And here's another opportunity to show this idea's brilliance.  You can slide these babies between an English Muffin with a little cheese and tomato.
OR…you can serve them solo with a dolop of jarred salsa and orange slices…
OR…you can set them atop a whole grain piece of toast, add a thin slice of avocado, and melt cheese over the top for an open faced breakfast sandwich sort of thing…
AND…you can squish a thin slice of ham into the muffin cup, top with a couple spinach leaves, crack egg on top, sprinkle with S&P and a little Parmesan, for a 'meatier' delicious version…oh boy.
Oh and what about topping a salad with one or two for lunch or even dinner??  Ideas are endless…
So, if your weekday mornings are as flipping crazy as mine are – there's just nothing like pulling out these ready-to-go eggs.  Believe me.  These babies are just such a welcome addition my early, cold, dark, mornings.  And I'm sure they'll be for you too!
For the EOQs or whatever your life may have waiting for you!
Live happy my friends!  And thanks for stopping by!