"She sells seashells by the seashore…" Well I'm not exactly selling them actually.  Just collecting.  And with my collection I made my first ever 'Coastal Decor' wreath.
Hmm.
Actually, if you must know, it's my first homemade wreath. Ever. (And it probably shows, but you've gotta start somewhere) :o)!
Oh sure I've bought them before, but this is my first stab at making one.  And let me just say that that's because of a very good reason – crafts and me do not really belong together.
As many of you may well know, my OCD tendencies just can't seem to stand what my strange mind considers "the mess" that typically comes with making various crafts.
I mean even when I was in elementary school (over 100 years ago), the art room – with it's paint stains, it's dried clay smeared on the kiln, the dried and flaking glue spots stuck on the desks and floor, the drippy, sticky, paint brushes and mixed up paints, the boxes of dusty, broken, colored chalk, the plethora of half used crayons, ribbon remnants, and left over pieces of various fabrics, and the overwhelming smell of whatever it is that an art room smells like, gave me a case of the anxieties and a colossal headache!
So…with my particular, peculiar, brain you can see that for a girl like me…this was a bit of an unexpected attempt to express my own particular brand of creativity.
I mean have you used a glue gun lately?  What is with all the sudden globs and stringy stuff that gets all over the place.  Geez.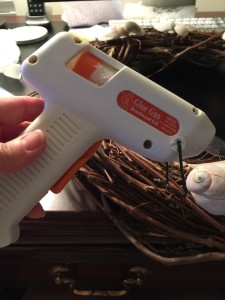 That being said…let me tell you how surprised I was to find – GASP – it was So. Much. Fun!  Maybe, just maybe, one can teach an old dog (me) new tricks!
From whence did my inspiration come you ask?  I mean, with that much pent up anxiety what on earth could possible inspire me to undertake a…gulp…craft?
Well, Emerald Isle of course!
My oasis of happiness and relaxation, where crazy ideas I'd never fathom in my regular life enter my mind and seem…well,
Doable!
So the wreath idea came from a scruffy little island that floats in the middle of Bogue Sound that you can see directly from our deck – aptly named Shell Island.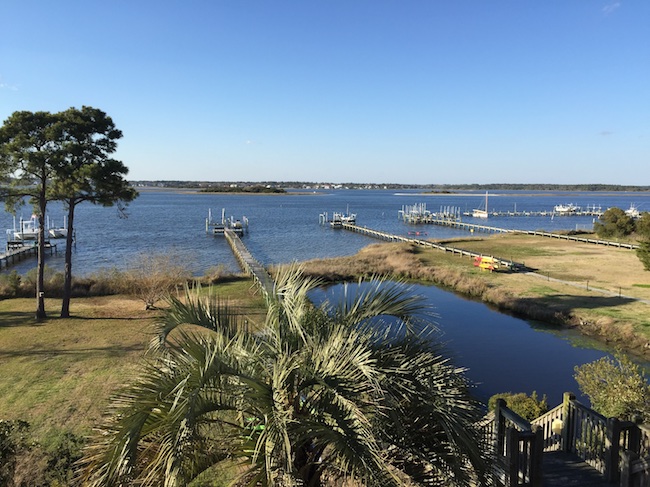 See it there?  It's the little island on the right, behind the sailboat?  With the white sandy beach wrapping around it???  Shows ya about how far we have to paddle…Not bad!
Give ya one guess what we collect there…yep.  Shells.
And hermit crabs, and blue crabs, clams, oysters, and sometimes we're even lucky enough to see dolphins swim in pods right by us as we canoe or kayak over to collect our booty.   We actually saw a mother and baby come up out of the water and look at us one time.  It was AMAZING, but I digress.
So anyway, it takes only about five minutes or so of paddling time depending on the tide and our family loves to haul ourselves over there to wander aimlessly around exploring for unexpected sea treasure, and reveling in the freedom and simple bliss of unstructured and relaxed family time.
The boys roam like wild ponies racing from one end of the island to the other – free from all the rules and regulations of their normal day to day school lives. They delight in exploring the little island, finding its random treasure, and nearly explode with excitement when the Top Gun type military jets fly right over us practicing their maneuvers. It's like our our own, personal, air show and I can't help but hum "…cause I'm proud to be an American, where at least I know I'm free…"
Hi guys!  Go USA!
Dixie, our lovable Golden Retriever, also eats this place up – literally sometimes – as she gets to wander off leash wherever she chooses to go, digging up curiosities she finds in the sand.  We love hanging out on the 'shelly' beach edges watching the boats go by on the intercoastal waterway waving to the sailors and seagulls like they're old friends.
And it was on our little excursion over to Shell Island this past April, that the kids and Jason and I snagged another bunch of pretty scallop and other (I have no idea what) shells to add to our treasure collection. Routinely we purge these collections after their initial sparkle wears thin and they fall prey to my "get rid of all this stuff" mannerisms.
But this time (for some unknown reason) was different, and so we brought them back to the canoe, squashed them between the five of us, and took them back up to our place, where they were immediately plunged into soapy warm water to wash and were committed, by my firm declaration, to some sort of craft keepsake to further personalize our little beach pad.  We dried them on the deck, piled them into a ziploc bag, and happily drove them four hours back to Winston Salem.
And a few weeks later…Ta Da!  Here's the craft keepsake!  What do ya think?
A wreath for our front door, our wall…our something.  And there was nothing to it but a little beach fun and a glue gun, a $5 grapevine wreath, a couple purchased starfish, and a big bow from AC Moore (not an affiliate link – just where I actually went) and voila!
I actually did it.  Not so hard Laura…geez.
So now, I'm gonna load it up carefully and bring it back to the beach with us to display.  A little touch of what I'll playfully call Laura's Choice Coastal Decor, chock full of Happy Kubicki Family Shell Island memories…
That's it for me y'all!
Tell me, have you tried anything new lately?  Crafts or otherwise, I'd love to hear it!  Just scroll down and comment, comment, comment if it suits ya!
And thank you, thank you, thank you – for reading.  Seriously.  And please share lauraschoice.com with your friends if you like 'cause you can never have too many friends!
Don't forget to come back soon either, cause I always, ALWAYS, miss ya!!!