Hi Guys!
Guess what!  It's PEAK Asparagus Season!  Yup.  Asparagus season starts in February and goes til June, but now in April is at its peak.
Which means it's plentiful.  It's delicious.  And you should be able to get it at a better price than usual!  Which makes it a terrific quick, healthy, side to a meal.  We eat it A LOT with grilled chicken, fish, steak…you name it.  And it's a snap to prepare!
Speaking of snap…lets get started.
Start by simply 'snapping' off the tough bottom ends.  Some people cut it off, but it naturally snaps off right where it should, so do what you like there :o)!
Next, add a TBS of oil (I use EVOO) to a large frying pan on Med/High heat and throw in a clove of slightly mashed garlic.  Cook the garlic clove (a minute or so) until it browns slightly and turns fragrant – then remove.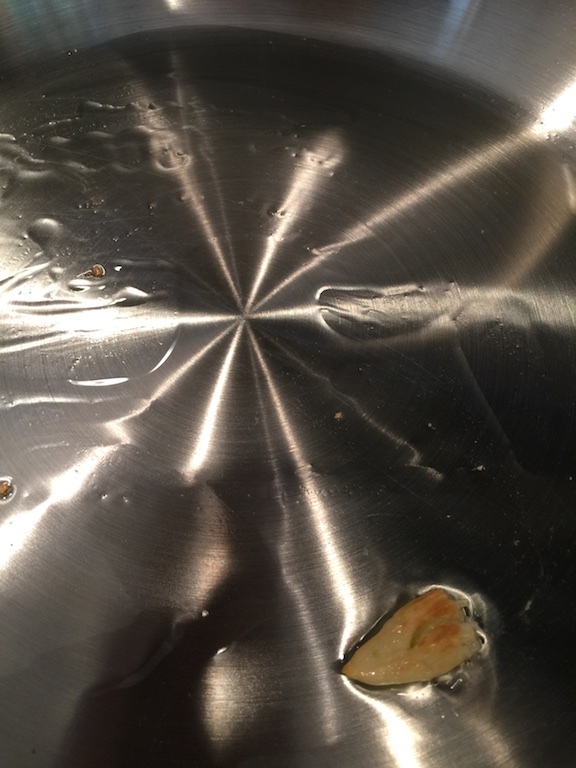 You can use chopped/minced garlic, but it's tricky on higher heat and you know if garlic burns it gets bitter and then you have to throw the whole thing away…just seems easier to flavor the oil briefly for me, but you choose!
When the oil is infused, add your sliced onions and asparagus.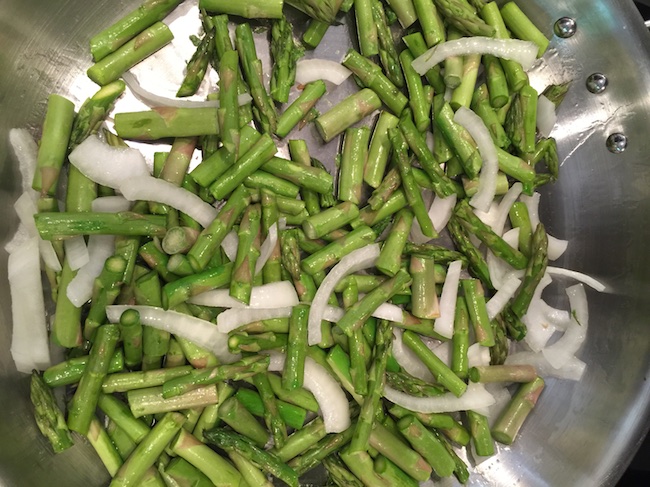 Stir fry for a minute or two until the onions begin to soften and the asparagus begins to turn a bright green.
This is the time to add your salt and pepper and sprinkle in your sesame seeds.
Toasted sesame seeds add a delightful layer of flavor to this dish, but if you've not the time, just throw them in regular like I did here and it'll taste just mighty fine!  Stir-fry another minute or two and when they're nearly done (that's tender crisp for me) turn of the heat and drizzle in a tablespoon of fresh lemon juice and stir to coat.
And that's it!  Pour into serving dish, add some lemon zest if you so desire and a slice or two for garnish and have at it!
This dish is so fresh and irresistible, I usually can't help but to dig in immediately. Guests love it too, so it's a great side to use when you entertain, and it's so simple your kiddos can help with it!  This one's a keeper – it's sooo good!
So go ahead.  Dig in and make your mouth happy!!
Happy Asparagus Season friends – enjoy!

Lemon Sesame Asparagus Stir-Fry
Ingredients:
1 TBS extra virgin olive oil

1 slightly smashed garlic clove

1/4 C sliced sweet onion

1 bunch fresh asparagus

1 TBS sesame seeds – toasted are marvelous

1 TBS fresh lemon juice – or to taste 

Salt and pepper to taste
Directions:
Heat 1 TBS of oil in a large frying pan over medium to medium/high heat

Slightly smash 1 garlic clove and add to heated oil in pan.  Cook 1 minute or until slightly browned and soft.  Remove and discard.

Slice asparagus and onions into one inch slices.  Add to infused garlic oil.

Stir-fry 1 minute or until onions begin to soften and asparagus begins to turn bright green.

Add sesame seeds and salt and pepper to taste.  Stir-fry another minute or two until just tender crisp.

Turn off heat and drizzle lemon juice over asparagus.  Add to serving bowl and top with fresh lemon zest and slices if desired.