Ok Everyone.  This is going to be quick.  Because school is almost out and we need a couple new, quick, EASY, dinner fixes to get nutrition and energy on the table…fast. And that, my dear friends, is exactly what this does!
NOTE:  This is actually more of a cooking strategy you can adapt to whatever you have on hand so it tends to be really quick and is a great clean up the fridge meal!
I love this because…
It's quick and easy,
It's full of flavor and…
It's chock full of healthy veggies!
So without further adieu…
INTRODUCING…..Laura's Choice Quick and Easy Pasta Primavera!
First – let's gather some ingredients shall we?
I usually just choose whatever veggies happen to be on sale at the market and in my fridge at any given moment (leftover ones work great here) and slice/chop them up (you'll also be happy if you have some leftover chicken or shrimp or pork or steak to throw in for a protein kick too – stay tuned)! 
Oh, and pull out what ever pasta you have on hand, the EVOO, a clove of garlic, some Parmesan and S&P.  Now you're ready.
Step 1.  Cook your pasta according to directions.  Don't forget to season that pasta water generously with salt!  It makes a huge difference!
Step 2.  Sauté your veggies in a little EVOO that you've heated and sizzled your smashed garlic clove in.  Add a little S&P to taste and mix in well. Remember not to let your garlic burn!  It only takes a minute in a hot pan to infuse that oil with its flavor!
Cook your mixture til it looks like this…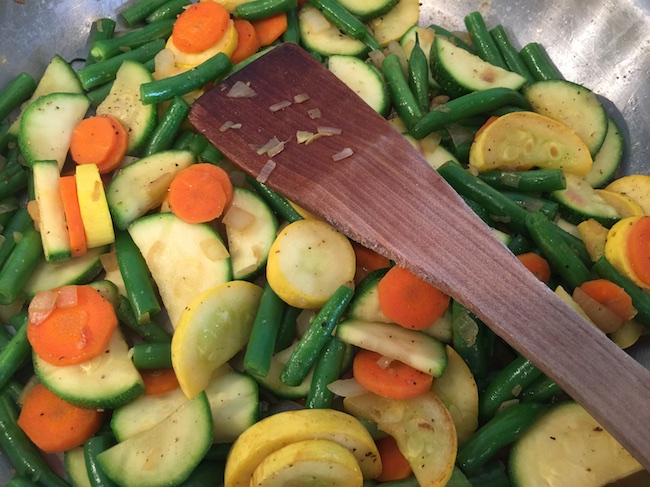 and this.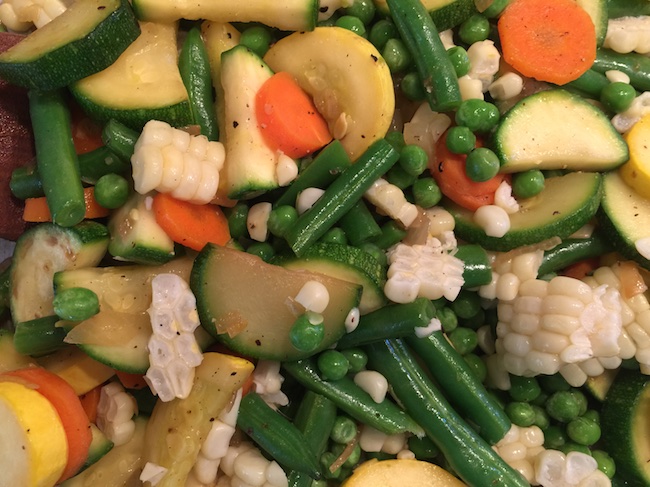 You'll see I used…zucchini, yellow squash, a little onion, corn I had leftover from an "on the cob experience" earlier in the week, some frozen peas, fresh green beans, and a few carrots all nestled together and juiced up with the "garlic-ed" EVOO.
Step 3.  Next, I heated up some leftover chunked rotisserie chicken I happened to have on hand (but this dish is great with just the veggies too!)  in the microwave for a minute or so and added it, along with the veggies, to the drained pasta in a big ole pasta bowl!
That got topped with some halved grape tomatoes that were screaming to me from my counter top and freshly chopped parsley, along with a healthy dose of Parm Cheese and some more EVOO.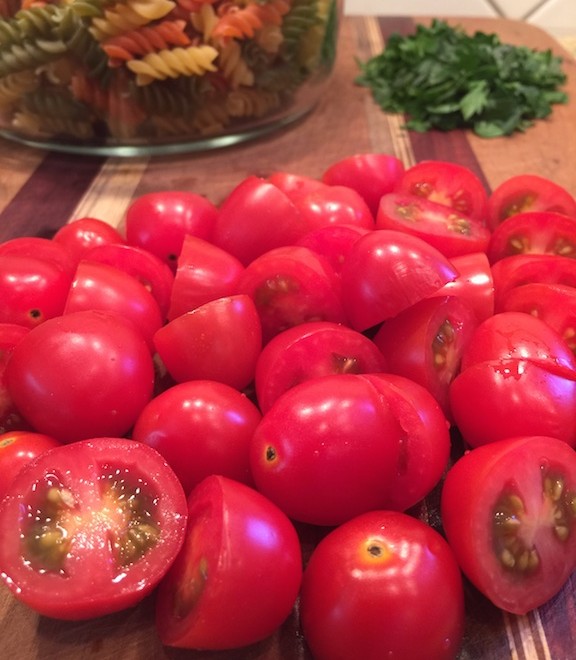 Toss this baby up.  Keep tossing.  That's right, get all that cheesy goodness spread throughout.  Add a little pasta water if you need a little more moisture…and some more S&P, if you wish.
Dinner. Done.
Thanks for reading my friends….you're the greatest!  If you care to try this recipe strategy idea thingy, shoot me a pic of what your creation looks like!  I'm gonna want to gobble it up!
P.S.  It's great for lunch tomorrow too!  XOXO.

Quick and Easy Pasta Primavera
Ingredients:
1 box of pasta – your choice

1 clove of garlic – smashed

¼ C plus 2 TBS or so of Extra Virgin olive oil

2-3 C of various sliced and chopped vegetables such as zucchini, yellow squash, sweet onion, carrots, fresh green beans, corn, peas, carrots, etc.

1 pint halved grape tomatoes (optional)

1 C cubed or shredded rotisserie chicken or any other protein (optional)

¼ C fresh chopped parsley

¼ C Parmesan cheese – plus more for sprinkling

S&P to taste
Directions:
Cook pasta according to directions on box. Be sure to generously salt the water prior to adding the pasta.

While pasta is cooking, heat 2 TBS of EVOO in a sauté pan over medium heat and infuse with the smashed garlic clove, being careful not to let garlic burn. Remove and discard garlic when it is golden brown or after about 1 minute.

Add vegetable medley to pan and sauté in the garlic infused oil about 5 minutes until vegetables are tender crisp or to desired degree of doneness.

Drain pasta, reserving ½ C of starchy pasta water. Set water aside.

Combine cooked pasta, sautéed vegetables, chicken and tomatoes (if using) ¼ C EVOO, ¼ C Parmesan, and parsley. Toss well to coat.  Add a little of the reserved pasta water for extra moisture if needed and toss.

Great with crusty bread and a green salad if desired.