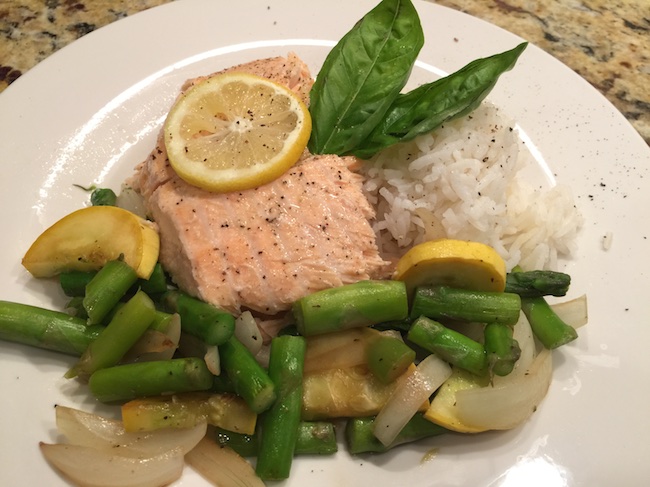 Ok Guys.  This is good…good…good!
So good that I even served it to one of my dearest friends who said she didn't care for salmon and VOILA!  One bite and this dish had her at "hello"!!!!!
And as delectably, delicious, as this dinner is, the ease of prep AND clean up CAN NOT BE BEAT…not kidding.  Check out the latest video below!  (We're playing with video here at Laura's Choice.  Stay tuned for some video variations coming in the not to distant future)!
Yep, this dish is one of my all time most requested, most favorite meals – Jack (my nine year old) asks for it for his birthday dinner…
It's.
That.
Good.
Oh, and let me jog your memory on how full of Omega 3s this fish is.  Simply packed.
Hence the title Simple Salmon Supper!  Cheers to you my friends!  Let me know what you think!
And click Lemon Sesame Asparagus Stir Fry for a GREAT simple side!  XOXO!

Simple Salmon Supper
Ingredients:
1.5-2lb filet of salmon – skinned

1-2 tsp – extra virgin olive oil

1 lemon thinly sliced

1 small bunch fresh basil leaves washed (or substitute other herbs such as thyme, dill, parsley, chives, whatever you've got on hand!)

½ tps garlic powder or more to taste (optional)

¼ C dry white wine – I like Sauvignon Blanc or Pinot Grigio with this

2 TBS – lemon juice

¾ tps Kosher salt

¼ tps pepper
Directions:
Rinse and pat dry salmon with paper towels. Tear a large piece of aluminum foil and lay out on the counter.

Combine salt, pepper, and garlic powder (if using). Set aside. Combine lemon juice and white wine. Set aside.

Spread 1 tps of EVOO on one side of the salmon with a basting brush. Sprinkle salmon with half the salt mixture.

Flip salmon over and baste with the remaining oil. Sprinkle with the rest of the salt mixture. Be sure to season both sides for the best flavor. (Salmon's flavor is really enhanced when well seasoned.)

Lay lemon slices across top of salmon. Sprinkle with basil or other herb(s) of choice.

Fold foil packet around salmon and crimp securely at one end. Carefully pour lemon juice and wine into open end of foil packet. Then seal completely.

Place salmon packet on a sheet pan and bake at 30-45 minutes at 350 degrees or until salmon flakes easily with a fork.

Serve with rice and steamed asparagus or broccoli