Hi Friends.
So, do you know how CMAs and home appraisals differ? If you don't keep reading!
Establishing a home's market sales price is equally important to buyers, sellers, lenders and real estate professionals. To help transactions proceed quickly and efficiently, sales professionals and appraisers both utilize information from the local Multiple Listing Service (MLS).
The MLS is a professional member-based cooperative that contains a wealth of information including active listings, homes that have recently sold, tax roll data, historical data, and market trends such as how quickly homes are selling and how close they sell to the original listing prices.  It's what I use daily to keep up-to-the-minute current on what's happening in the Triad area market.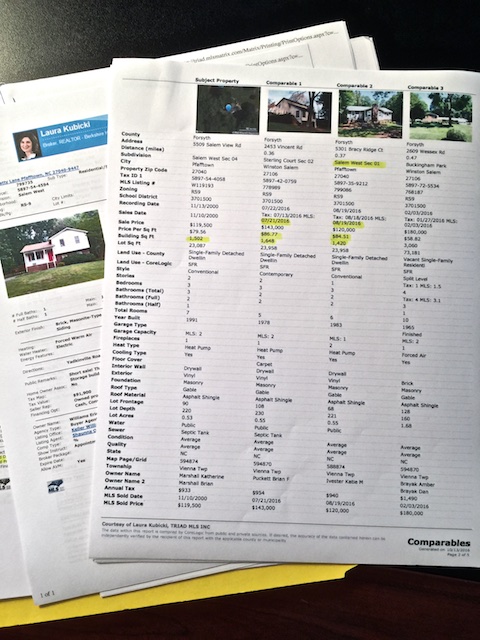 Using this data, I prepare a comparative market analysis (CMA) report to help my sellers choose a listing price for their homes and to help my buyers make competitive offers. The CMA is a consumer-facing report that includes recently sold homes and homes for sale that are most similar to the seller's home in location, appearance, features, and general price range.  It gives sellers a good indication of what the market will pay for their particular home, helping to take some of the emotion out of the pricing process, resulting in a 'right price' for their property, which often times leads to quicker and more favorable sales – and sometimes multiple offers!
Buyers and I use this data to assess sellers pricing on homes they like, versus other similar homes in the current market to determine if the seller's price is fair, a great deal, or too high.  This information is useful in determining the correct offer for a buyer to start with and can help shorten the negotiation process in some cases, benefiting both parties!
Now, on to bank appraisals.
If the buyer is requesting financing through a bank (mortage), the bank will order an appraisal, using the same MLS data, but with some differences. A bank appraisal is performed by a licensed appraiser to determine market value. Comparable homes similar to those in a CMA are used to compare physical features, property tax records and recent solds to determine whether values are trending up or down.  This gives the bank (lender) an idea of the property's value and determines the threshold price for approving a mortgage.  If a property doesn't appraise to the price that it is listed for, a lender is less likely to approve a loan amount necessary for a buyer to buy, making it a lot harder to sell your home.
In short, the CMA introduces consumers to the ever-changing marketplace of homes for sale and those properties that have recently sold to help them formulate right pricing and offer strategies. The appraisal determines market value for the bank so that the bank doesn't lend too much money on a single property. Together, CMAs and appraisals help consumers more efficiently buy and sell their homes.
Hope you find this information helpful!  As always, I'd love to help you with any questions or clarifications!  Thanks for stopping by today – please come back soon!
And remember to subscribe to Laura's Choice, if you haven't already before you click away!
Save
Save
Save