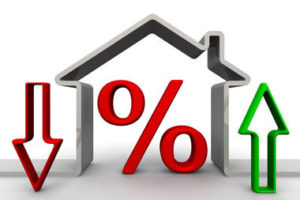 Have you heard the latest news on interest rates?  They're predicted to rise – 3 different times – this year!  That's great for your every day savings account, but what about a new mortgage?
When mortgage interest rates rise, you may be tempted to put your home buying plans on hold, but there are three reasons you shouldn't let these (slightly) higher interest rates deter your home buying plans in 2017.
First, when you shop for rates, be sure and shop at least three lenders using the same type of loan – 30-year fixed rate, adjustable, hybrid and so on. Do so at the same time because rates can change as much as several times daily.  Then pick the best rate and lender for you.
Secondly, if applicable, make sure you talk with your lender about ways to improve your credit profile. If you're stretching to buy a home, you can expect to pay higher interest rates but if your credit is excellent, the reverse is also true!
Lastly, remember to keep some perspective. Home buying conditions and interest rates change constantly.  Focus on building equity with the lifestyle you want, not the slightly rising interest rates of today.  After all, in the late 70's early 80's rates reached as high as 18+%!  We're not even close to something like that!