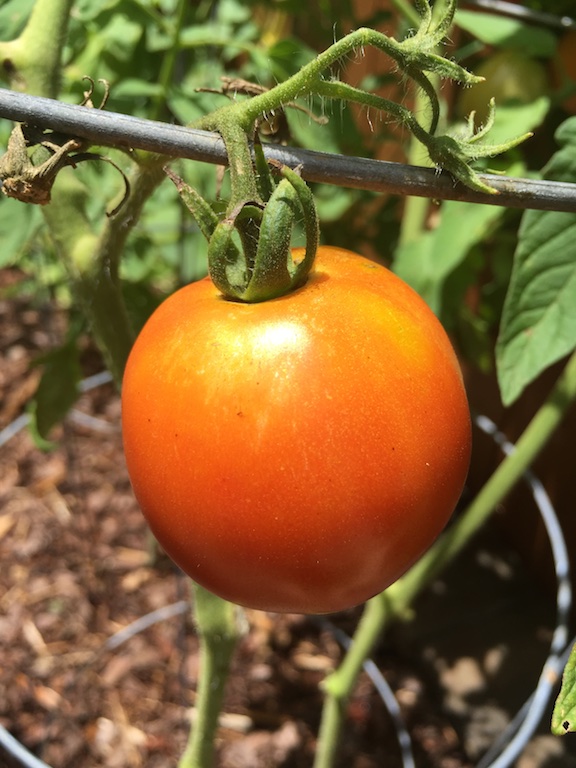 "You say tow-may-tow, I say tow-mah-ta!"  It's Tomato Time folks!  What to do, what to do?  Grab up as many as you can and go for it!  Salsas, soups, poaching sauces, pasta sauces, sandwiches, snacks, salads, toppings…on goes the list!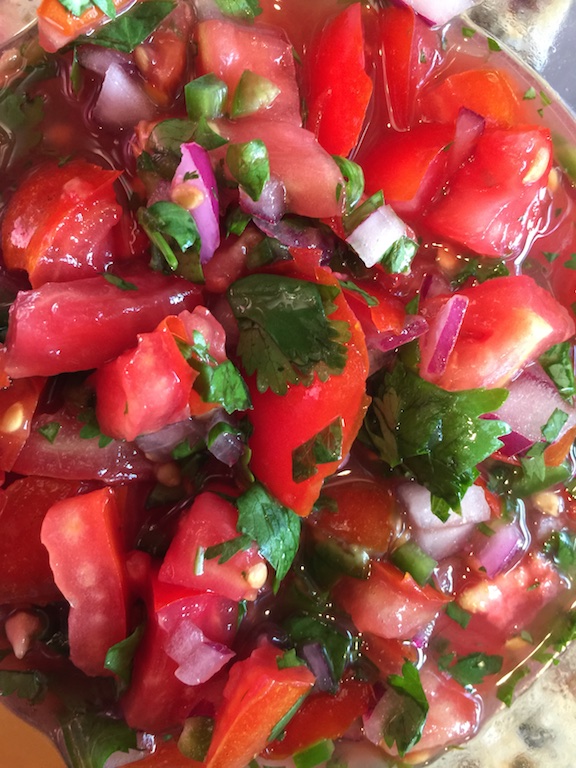 One of my favorite summer pastimes is finding delicious ways to use up all my now ripening tomatoes – what about you?
With that in mind, I thought I'd ponder a few tomato temptations that I absolutely drool over – and maybe provide a little inspiration for you in the process??  I mean whether you have your own garden beauties or happen by a market or convenient farmstand, grab a bunch… 'cause this is definitely the time friends!
So let's see…where to start.  I love, love, love tomato sandwiches.  Plain on whole grain, toasted bread, with a little sea salt sprinkle.
Then of course, there's the classic BLT.
Or a thick, juicy, slab for a toasted onion bagel slathered with a thick coating of cream cheese (and maybe a little smoked salmon and a caper or two if you've got 'em)…
Oh geez.  My mouth's watering…
Certainly there is the classic Italian pasta sauce we all love, or meat sauce, or your Grandmother's secret sauce recipe that is just perfect with those beautiful, red, round, juicy orbs just plucked from the garden!  Freeze some when you're done, and you've got that summer flavor in December ready to go – a treasured Christmas gift to yourself of fresh, homemade, summer bounty savory-ness will be just perfect after the upcoming school play, a unending shopping or decorating or kid sick day, or that 'quick, last minute, just for the fun of it' science project a well meaning teacher squeezes in the week before school's out!
I'm telling you guys – you'll be thankful :o)!!!
Oh!  And then there's that delicious room temp, chopped tomato, EVOO, garlic, basil, and S&P to taste, sit on the counter while the flavors blend (and you're pool frolicking or whatever) deliciousness sauce that is simply spooned over the hot pasta of your choice whenever you get home…ahhhh.
And tuna salad stuffed tomatoes.
Chicken salad stuffed tomatoes.  Shrimp salad stuffed tomatoes.
What about a whole wheat pita packed with the hummus of your choice and a couple hefty slices…add a couple cukes, maybe some alfalfa sprouts and a Kalamata olive or two if you so desire…simply irresistible.
I also love to puree up a few and pour into a large flat bottom pan…add a quarter cup of white wine or so, a little fresh basil, some (small) pats of butter, and S&P.  Heat up, and add fish of choice (my favorite is Salmon).  Poach a few minutes to perfection (done when the fish begins to flake) and lay this over a bed of jasmine rice, throw on a side of steamed broccoli, and you've got the freshest, quickest and easiest, summer meal…that just melts in your mouth my friends.  Just. Melts.
Seriously, I can practically drink this tomato poaching liquid concoction – yes, I'm that bad!
What about a cold, refreshing, snappy, fresh tomato soup (otherwise known as Gazpacho)?  Puree a tomato with part of a sweet pepper, some onion, throw in some garlic, cilantro, S&P, a tablespoon or two of EVOO and any other fresh herbs you like along with a half cup of tomato juice.  Add this blended mixture to some finely chopped tomatoes, a chopped cuke, the rest of that diced pepper and onion.  Mix with a couple more cups of tomato juice, add a 1/3C or so of Champagne vinegar (red works too!) and a dash of hot sauce to taste if you like.  Serve up in chilled bowls with a dollop of low fat sour cream or plain greek yoghurt, a sprinkle of fresh herbs and some crunchy croutons.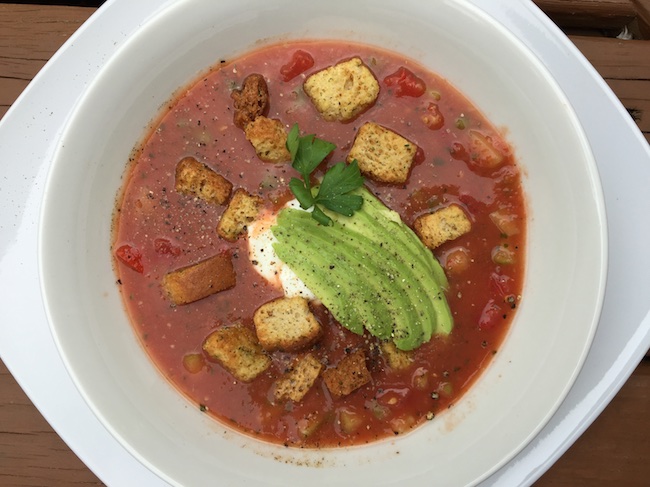 Simply awesome, awesome, awesome!
Roasted cherry tomatoes with some olive oil, garlic, salt and pepper makes a great side dish.  Or…shoot, just run to the garden and pop them whole, right into your mouth for a terrific snack!  We surely do!
Did you know you can also freeze tomatoes whole?  Yep.  In freezer bags right off the vine.  Just pluck, rinse off, dry thoroughly and pack into freezer bags.  When ready to use, just rinse frozen under cold water.  The skin literally falls off. Their texture will be a little mushy, but they're great for cooking with (try that tomato puree idea, sauces, soups) during the cold months and will really surprise your taste buds (and impress any unsuspecting dinner guests you may have happen over)!  They last for at least six months and are such a great way to 'save summer' if you're getting a touch of the tired tomato feeling (what???!!!!)
Wow.  I just reviewed and we've got some serious tomato content here.
Enough about me already (oh but I didn't get in tomato pie, or cherry tomato salad…next time, sigh).  What about you???  What awesome tomato inspired creations does your family crave!
Oh please…share share share with us!
And then we can all add your great ideas to our plentiful tomato usage lists, as these punchy red babies tend to ripen all at once…and, of course…we can't stand to waste a single one!
Hope you're enjoying a wonder summer season my friends!  Here's to you, your family, your health, and living happy!