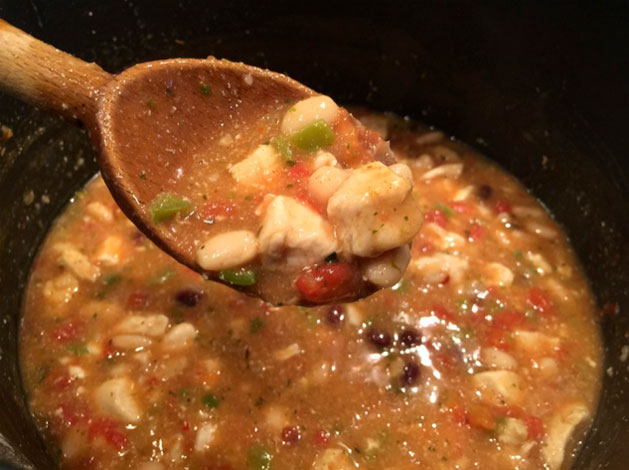 It's still cold.
Anytime the temp dips below 40 degrees I get all shivery inside (I know this is a bit wimpy seeing as I lived in Rochester, NY for over 14 years). Regardless, when the temp dips this time of year, a piping hot bowl of 'something' usually hits my "what we're having for dinner plan" pretty hard.
Enter – Weeknight White Chicken Chili.
Now notice I say weeknight.
Gotta be good.
Gotta be hot.
Gotta be fast.
See what you think of this…my fam loves it!
 Ingredients
1 TBS Olive Oil
1/2 C Diced green pepper
1/4 C Diced sweet onion
2 lbs Chicken Tenders chopped into 1/2″ pieces (or any leftover or frozen rotisserie chicken you may have on hand)
2 packs of White Chicken Chili Seasoning Mix ( I favor McCormick's)
2 cans 15.5 oz Great Northern Beans with juice (or any white beans you prefer)
1 can 14.5 oz Petite Cut Diced Tomatoes (mostly drained)
1 can 7.75 oz Black Beans (drained and rinsed)
1 C good beer (you'll be amazed at the depth of flavor this adds)
1/2 tps chilis in adobo sauce (or to taste – adds great heat and smokey flavor)
Juice of 1 lime
Ideas & Additions!

Try serving over whole wheat elbow noodles for Chili Mac, or use any pasta you may have on hand.
Side suggestions:  Corn Chips, Corn Bread, or Saltines and a Garden or Green salad
Optional Toppings:  Low Fat Sour Cream or Plain Greek Yoghurt, Shredded Cheddar, Chopped Cilantro, Diced Avocado, Diced Sweet Onions, Lime wedges, Hot Sauce
Directions
Heat oil in chili pot over medium heat.  Add peppers and onion and cook till soft.
Add chopped chicken and cook till no longer pink.  Or if you're adding leftover cooked chicken, just warm it up.
Add white beans with juice, drained black beans and tomatoes, adobo sauce, beer, and seasoning mix.
Bring to a boil, reduce heat to medium-low and simmer for 10-30 minutes (depending on how much time you have to let the flavors deepen).
Stir in lime juice and serve with desired sides and toppings.  Add a splash of beer or water to desired consistency if you think it's too thick!
Enjoy!
Quick Tips!

Dice up peppers and onions in advance and store in freezer.  Then just grab and cook for faster prep times!
Save extra Chilis in Adobo sauce in freezer to use later.
Shred cheese from a block and keep in freezer to save prep time and keep away from wood pulp included as a preservative in pre-shredded cheeses.
Grind up lime rinds in garbage disposal to freshen sink