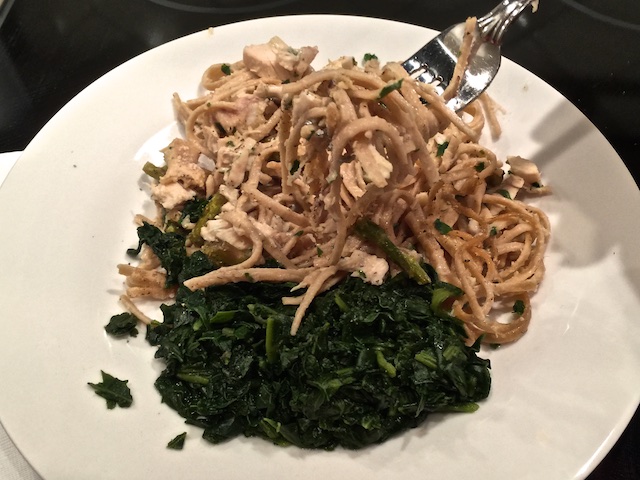 GOBBLE GOBBLE!  What happened!  Turkey, er I mean Thanksgiving, flew in and out and now we have….
LEFTOVERS!
In addition to fresh turkey sandwiches smothered with a little mayo and cranberry chutney, crunchy romaine, and baby swiss cheese, on earthy, seedless, rye bread with a side of pickle spears…
I love to make Turkey Tetrazzini!  Laura's Choice Turkey Tetrazzini that is!
It's a delicious, savory, creamy, way to finish off the last of that great bird…I add a few refreshing ingredients to lighten it up a bit – like freshly squeezed lemon juice, skim milk, dill, garlic powder, parsley, and a little veggie action – to "BAM!  Kick it up a notch"  thank you Emeril… (this time I added some left over stir fried asparagus I had on hand, lots of times I add broccoli – totally optional friends).
To veggie or not to veggie, that may be your question, but either way give this dish a try!  I bet your "fam" will love it as much as mine!  Toodles!
Save
Save
Save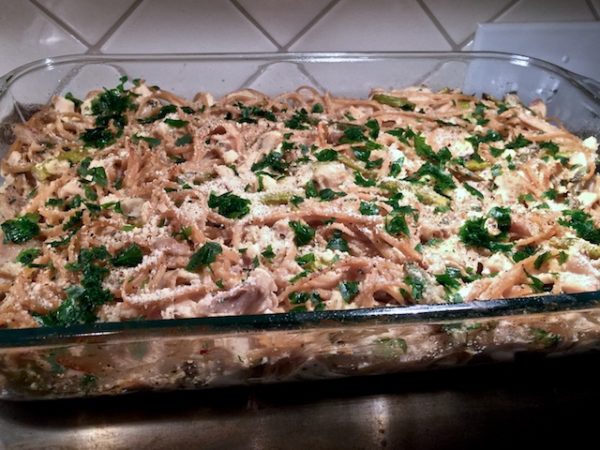 | | |
| --- | --- |
| | |
Collect all your ingredients ahead of time - makes a lot easier to prepare!

Cook linguine according to package directions.

Stir in flour, pepper, nutmeg, dill, garlic powder

Add chicken broth all at once and stir well with a whisk

Add skim milk immediately after. Whisk in.

Cook and stir until thickened and bubbly

and 1/4 C Parmesan cheese

and then the lemon juice, fresh parsley, and veggie if using

Fold in linguine until the noodles are just smothered in the sauce!

Place mixture in a 9X13 inch baking dish, sprayed with cooking spray. Sprinkle with additional Parmesan cheese and place in oven.

Bake in a 350 degree oven for 15-20 minutes until heated through. Sprinkle with additional parsley.
I love to serve this dish with a side of frozen spinach, but if you have extra time and want to jazz it up a bit more, try sautéing in a little olive oil and fresh minced garlic a bag of baby spinach or a bunch of hearty kale!  Also, because we're produce freaks around here, I always serve salad on the side as well!  Cheers!