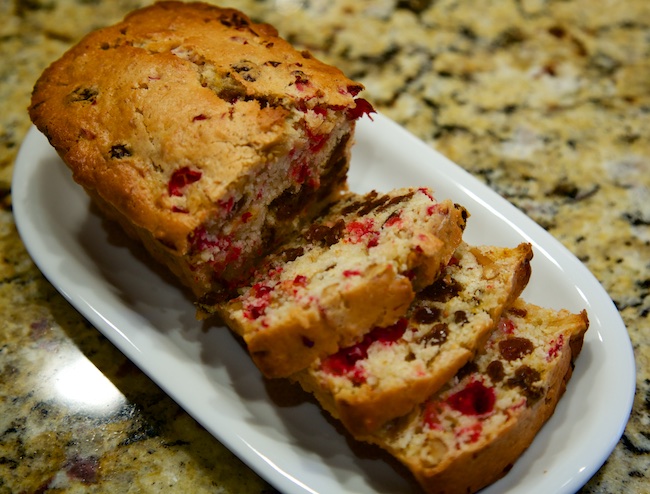 It's here!  Happy Holidays Everyone!
So I've been getting lots of requests for holiday food suggestions…and one that I haven't seen anywhere as of yet is cranberry bread.  And this one is as beautiful as it is delicious.  No joke.  It's um um good!
First, a disclaimer.  This recipe I got from my mom.  You'll see her version says "Laura's Fabulous Cranberry Bread" and that's how she lovingly remembers it.
But the truth is I brought this recipe home as a kindergartener – won't say how many years ago.  We made it together.  We loved it.  Thus it was named "Laura's."
If I had any idea who's original cranberry bread recipe this was, I would love to note that here ______.  However I don't, so whoever you are please know our family has enjoyed your holiday treat year upon year for….ever!  So much that I just have to share it…
So without further adieu…(as I know you're racing around as much, if not more, than I am this time of year), may I present a truly fabulously moist, sweet-tart, tangy, holiday cranberry bread loaf that's great with breakfast, on Christmas morning, as a holiday gift to friends and loved ones, and even as a quick "phew" bite in the midst of a busy Christmas season!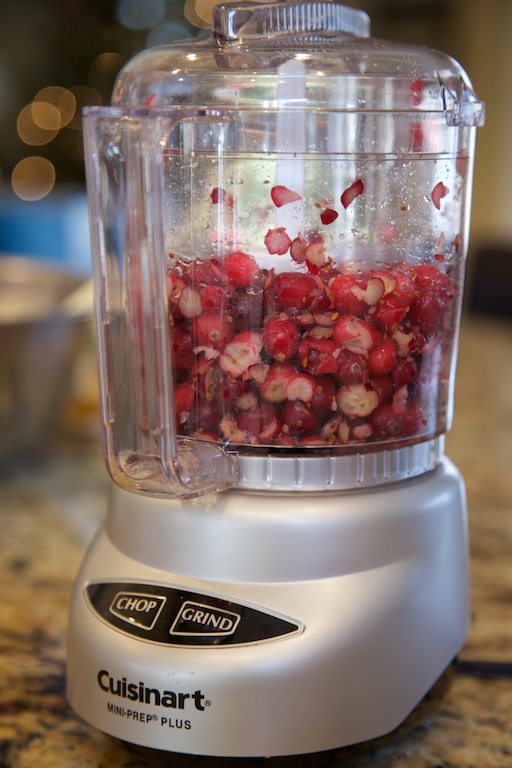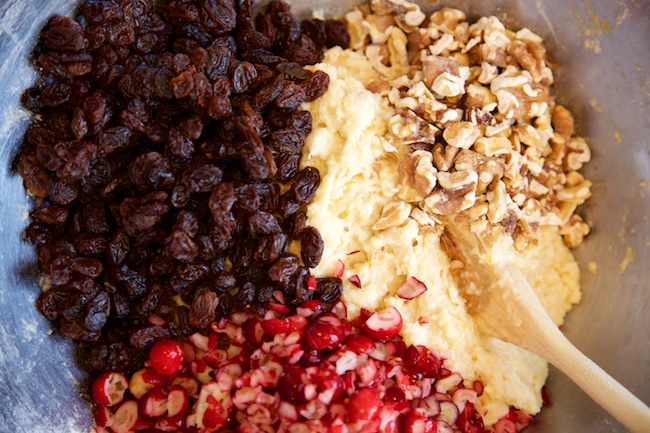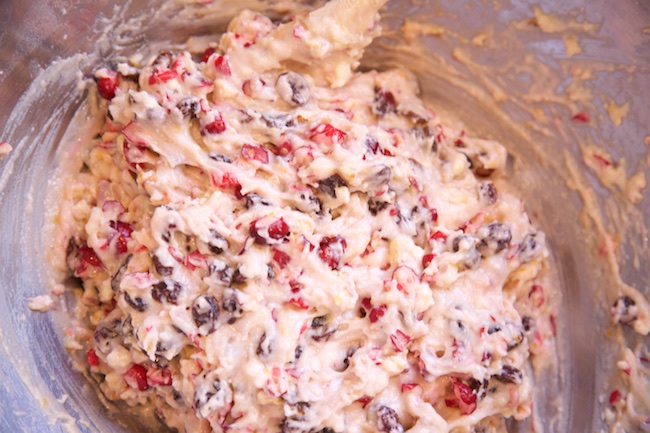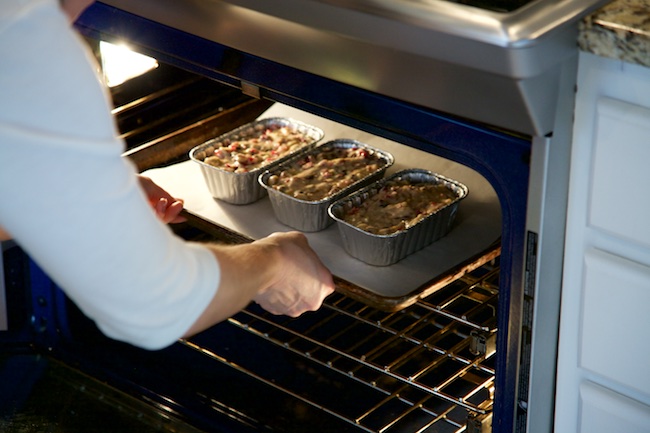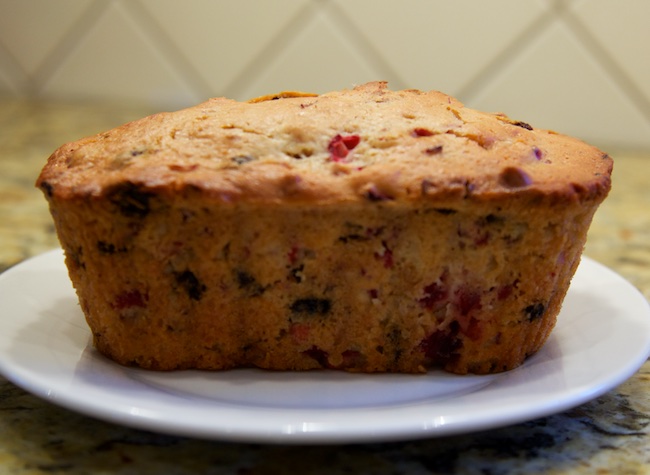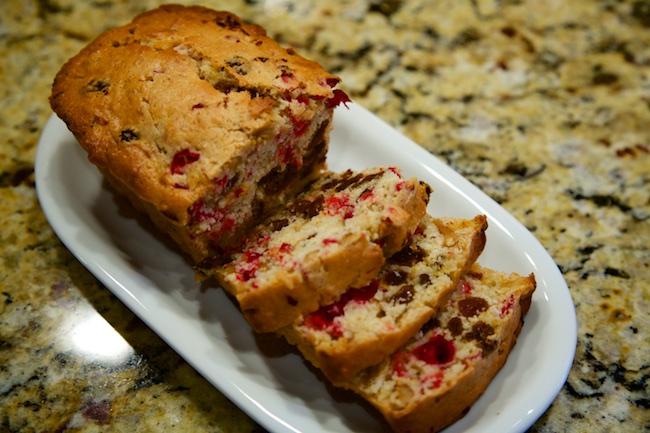 Final note:  There are nuts in this!  Check for allergies or leave them out…:o)  Also makes a great gift!! XOXO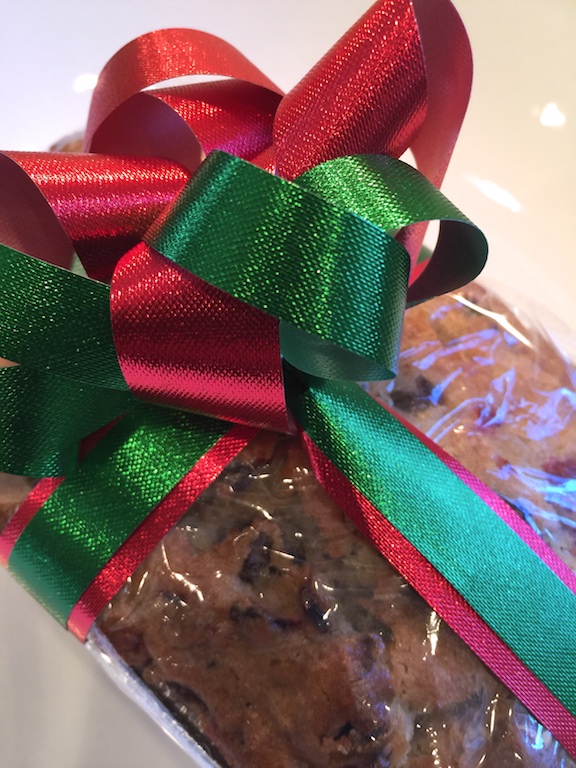 Laura's Fabulous Cranberry Bread
Ingredients:
2 C flour

1 C sugar

1.5 tsp baking powder

1 tsp salt

1/2 tsp baking soda

1/4 C butter, not softened

1 egg, beaten

2 tsp orange zest

3/4 C orange juice

1.5 C raisins

1.5 C chopped cranberries

1/2 C chopped nuts (optional)
Directions:
Combine first 5 dry ingredients.

Cut in butter using a pastry cutter or two butter knives with a cross cutting motion, until crumbly.

Add egg, orange peel and juice all at once.

Stir until just moist.

Fold in raisins, cranberries, and nuts if using.

Spoon into a 9X5″ loaf pan and bake at 350 degrees for 1 hour and 10 minutes or until a toothpick inserted into the middle comes out clean (I used gift sized mini loaf tins to share – adjust time accordingly).

Remove from pan and cool on wire rack – enjoy!