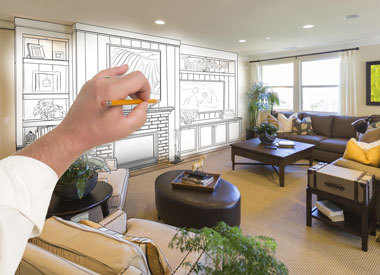 Hello Friends!
For those of you who are in the process of buying a new home, you may wonder how to put your personal stamp on its décor. How do you start? I always recommend, whether you're decorating a living room, bedroom or bath, starting with a focal point – to enhance the room's ambiance and underscore the room's purpose.
Focal points can be easily be created by highlighting a room's unique architecture, such as a magnificent fireplace or a sunny bay window with a garden, pastoral or water view. But what if some rooms don't have an outstanding architectural feature to build upon? You may have to create one yourself. Here are some tricks of the trade you can use – size, color, light, and curiosity.
Size: Large items attract interest. Start by putting the largest piece of furniture against the largest wall to help traffic flow.  This can be an entertainment center in a family room, the bed or recessed seating area in a bedroom, hutch in a dining room etc.  Rugs also command attention and work to anchor your décor.
Color and Texture: Paint a contrasting wall color behind your sofa or bed, or add texture with fabric, colorful quilts, or wood such as shiplap. Pop the color on small items like pillows, table runners, and placemats. Vivid color helps direct the eye to seating areas and pairs well with neutrals.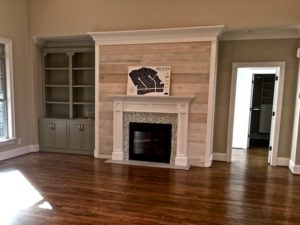 Light: Your eye travels to where it can see the best. Put directional light on a piece of fine art. Dim or brighten lighting when you want to change the room's atmosphere.  Make sure you have plenty of lamp light vs. the harshness of bright overhead lighting.  Cabinet lighting can create a beautiful glowing focal point in your kitchen!
Curiosity: A collection under glass, a great piece of art, interesting plants, flowers, or books, an unusual piece of furniture – all invite conversation and draw attention.
By establishing your focal point, I'm sure you'll have an easier time putting the rest of the room together!
Thanks for reading and have fun decorating my friends!  As always call/text/email/comment me if I can help your further!
Save
Save
Save
Save