Hi Everyone!  Thought you might like a decor tip or two!  If you know me you know I use yellow as an accent color in my home.  Are you looking to change it up in yours?  Here's an idea for you…
To paint and decorate your home without worrying whether you're going overboard with color, try the classic interior design rule known as the 60/30/10 rule. It's a foolproof way to divide your color scheme into primary, secondary and accent colors by assigning them percentage values.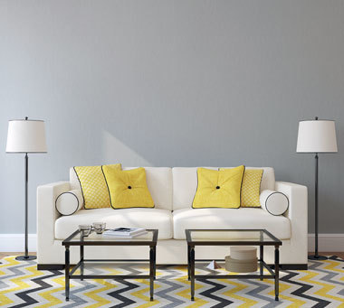 The primary color is the largest block of color and will act as your neutral. You can use a true neutral like beige, grey, or white, or try a soft tint of your favorite color. The secondary color is the anchor and works well on upholstery and bedspreads. The accent color should have the most color intensity and is used sparingly in pillows, chair seats or oil paintings. Outside, the primary color is the brick, stucco or siding, the trim is the secondary color and the front door, porch chairs, or planter pots are the accent.
If you choose a deep shade for walls, give the paint a satin finish for sophistication. A dark color can easily look chalky. And the opposite is true—a light color can become blinding in a shiny finish. If you have lots of fine wood trim, paint baseboards, crown moldings and door and window trims in a complementary hue like white or cream.
To test a paint chip for accuracy, hold it parallel to the wall under natural light. Buy sample jars and test the colors on large poster boards you can tape to the walls. Watch how the colors change throughout the day and evening under artificial light.
Remember, interior colors always tend to go darker, while exterior colors appear lighter.
Hope this helps ya!  And if you haven't already – don't forget to subscribe to lauraschoice.com!  You can easily do this – just look to the handy side bar and click Subscribe to Laura's Choice!
Happy summer!!!!